News
Latest updates from the campaign:
Chuck Goode has a calendar for all of his events in the campaign. Click on EVENTS tab, then Click Next for each month until Election Day on Nov. 6.
Sunday, October 21, 2018 10:51 PM
My name is Chuck Goode and I am running for the Utah State Legislature in District 71.
As a resident of Utah for more than two decades, I feel I am a part of this beautiful state and proud to be one of its citizens. We treasure the Constitution as our framework for liberty and equality. In 1787, no one imagined that this nation would establish the strongest national government ever created.
We believe that governments are created through the consent of the governed with the purpose of securing the blessings of liberty for its people and their posterity. Each state, including Utah, gave up a huge part of its autonomy and its sovereignty in order to join this national government.
---
Sunday, July 15, 2018 5:38 PM
Washington County is the fastest growing county in the nation. This may be a partial reason for the rising cost of housing and rental rates. Combined with the lowest wages in the nation, Utah is experiencing an affordable housing crisis. What can be done to help working families afford a home of their own?
---
Tuesday, July 3, 2018 8:29 PM
Chuck organizes St George's March to Keep Families Together
We had a great turnout for our march to Keep Families Together in downtown Saint George On Saturday, June 30th. Maybe, 150-175 people made signs and marched with us. My Campaign Manager, Collin Wiess, Lucy, our mascot,and I had a good time and hopefully raised awareness about this tragic and cruel treatment of children.
---
Tuesday, June 19, 2018 7:55 PM
Chuck orders his door knocking cards
Chuck has ordered two-sided cards to leave behind when doing his door knocking. The front side talks about Chuck's priorities for providing attainable workforce housing, addressing the need for affordable childcare and living wages.
He supports education funding for universal kindergarten and community college. He is most concerned about the violence against children who are stripped from their parents, traumatized, caged or, even worse, attacked in school using assault weapons.
He is dedicated to conserving our environmental treasures in order to sustain our beautiful landscapes and national parks.
The back-side promotes the people's initiatives to pass laws because the legislature refuses to take action.
---
Monday, June 11, 2018 4:09 PM
Chuck orders his yard signs
I just ordered 100 yard signs! These will be available to distribute after the primary election on June 26th. Click the "Get a Yard Sign" button on the right if you would like to get one.
---
Thursday, June 7, 2018 8:13 PM
Chuck speaks to Rockville Gathering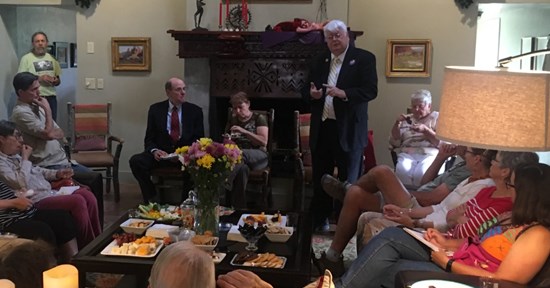 A big thank-you to all the Democrats who gathered in Rockville to support our candidates. The candidates, Chuck Goode for House District 71, Robert Ford for County Commission, Seat A and Mark Chambers for Senate District 28 were asked some really important questions. Many of us feel that tourism in the Zion Corridor is being over-marketed and under-funded. We talked about needed resources and infrastructure like fast internet service, mass transportation and clean air and water. There is not enough good data to seriously consider the Lake Powell pipeline. Our discussion will continue and will result in action. Thank you everyone for your support and your donations, especially Megan for organizing this and Larry for hosting it!
---
Saturday, June 2, 2018 12:00 AM
Chuck Goode hosts a Land and Water Public Forum
Chuck hosted a public forum to share the wealth of information that Lisa Rutherford and Paul Van Dam have amassed over the years concerning the Lake Powell Pipeline and the Northern Corridor. They did a wonderful presentation with much valuable knowledge for attendees. Candidates Robert Ford and Mark Chambers also did presentations.
---
Wednesday, May 30, 2018 12:00 AM
Chuck recruits Campaign Manager for his team
Chuck Goode is happy to announce his new Campaign Manager, Collin Weiss. He comes along with the Democratic mascot, Lucy the wonder dog. Collin is also the Vice-Chair of the Washington County Democratic Party and an excellent asset to the campaign.
---
Saturday, May 26, 2018 12:00 AM
Chuck Goode attends candidate training in Cedar City
Chuck Goode along with his fellow Democratic candidates, Robert Ford and Mark Chambers attended the candidate training course hosted by the Utah State Democratic Party on May 26, 2018 in Cedar City, Utah.
---
Tuesday, May 22, 2018 12:00 AM
Chuck supports the LGBTQIA+ community
Chuck Goode attended the Equality Celebration in St George to support an amazing group of people and their parents and other supporters. They are extremely talented in so many different areas. I am so proud to support the rights of the LGBTQIA+ community.
---
Saturday, April 7, 2018 12:00 AM
Chuck Goode candidacy approved at Convention
Chuck Goode, Chair of the Washington County Democratic Party, was approved as the candidate for Utah's State House of Representatives in District 71 on April 7, 2018.
---
Saturday, March 24, 2018 12:00 AM
March for Our Lives
Chuck Supported the students as they marched for action in preventing school shootings across the nation. This march was organized by Dixie State University students in St George. Chuck considers the root cause of these shootings to be bullying and abuse. He will work for helping schools to deal with this issue by having a school counselor and a school nurse available in every school. He would also advocate for the full expansion of Medicaid so that adequate mental health facilities would be made available to help troubled teens dealing with bullying, abuse, addiction and suicide.
---
Monday, March 19, 2018 8:15 PM
Chuck Goode declared his candidacy for the Utah State House of Representatives in District 71 on March 15th.